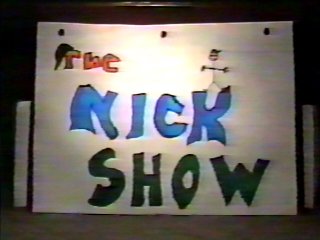 Season 1



Episode 100: Nick vs. Ronnie Gibson (The Pilot)

The very first episode of The Nick Show, in this episode Nick is the only one present. Frank and Billy are in the episode via speakerphone as is the SDG - Ronnie Gibson. We get to watch the cd cover for the MG - Nirvana "Heart Shaped Box" as I watch Kurt play on. Original theme starts with first appearance of Anarchy Ball. If you ever wanted to know how annoying I was when I was 16 this is the proof, I'd like to deny it but I can't. Doesn't it just look like fun!?!?


Episode 101: Nick vs. Ryan Firmin

Nick and the gang sell out to Fox so we all start to drink from coffee cups! 1st annual St. Jean Baptiste Celebration. We still have the SDG - Ryan Firmin played by Ronnie Gibson on the speakerphone. With the MG - Mudhoney "The Rose." Billy, Frank, and Nick get down! Nick show theme with visuals is perfected for first season use, playing Nirvana's "Gallons of rubbing alcohol flow through the strip" with first appearances of Frank and Billy (in person). You'd think all we'd need is Billy and Frank to make it great? NOT YET! Still a horribly painful episode to view, but compared to what was before progression is evident.

Episode 102: Nick vs. Paul Ellison

All driving permit episode! Ronald McDonald continues to haunt us throughout the episode. Nick becomes incessantly frustrated with D.A.V.E. Finally the last speakerphone guest due to cancellation. First "interesting" segment - Sonny Bonds in "The Stories of Real Policemen." Sort of SDG - Paul Ellison due to cancellation noted above and MG - Foo Fighters "Watershed." where we all are asleep or uninterested. The first Nick Show theme is introduced, and finally the first appearance of D.A.V.E. (in person). Ok so this one gets better since I couldn't fill time with an annoying guest spot I decided to randomly do more things so you get things like me proving St. Jean's existence, Frank singing, and Sonny Bonds. After viewing these episodes 4/5 years after the fact I realized how much Billy makes me laugh hence this episodes clip: "Stupid chipmunk!"

Episode 103: Nick vs. Charlie Manson

Best interview of The Nick Show ever. A spoof of the actual 20/20 interview and Space Ghost-esque interview of the SDG - Charles Manson, with MG - Sonic Youth "Compilation Blues" where we all have apparently left instead of viewing. First appearance of Chim Bean: Ruler of the universe (See Nick Show Characters). Now this is the first good episode, based solely on the interview with Charles Manson... it is nothing but comedic. The rest of the show isn't the greatest but it is all apparently building to the next episode which is chock full of fun. The quotes gathered from the Manson interview were fucking classic and after viewing them we laughed and laughed once we realized how much he looks like Santa at the end, so here is the clip: "Leave something witchy..."

Episode 104: Nick vs. D.A.V.E.

Location of the show is revealed that The Nick Show is filmed in Mary, Turkmenistan (Turkey 2). The show starts to be filled with awkwardly comedic segments like "What and what not to wear to school," a impromptu performance art version of Swan Lake! Adventures of Jerry and The Cake woman start a.k.a. "Mifune" (See Nick Show Characters). We get to uncover the mystery surrounding our SDG - D.A.V.E., and have MG - Kreviss "I.O.U." with the most amazing sequence of all featuring, TOYS!. This might get my vote for most entertaining first season episode, we were all very tired and insanity kind of ensued. I had to add a second set of pictures which sums up the 3 lessons of "What and what not to wear to school segment." Given the special quality of this episode here are four clips:
"I was annoying" - caught between commercials
"I don't want to do this" - Billy downs cup full of sugar water!
"disaster strikes" - the set falls apart
and by popular request "I'M BILLY!"

Episode 105: Nick vs. Larry, Larry Laffer

Pre-Nick Show Channel 17 News update of Frank's kidnapping by Nick and Billy. Exploration of the process in making packaged cheese. Pretty much the coping with loss episode with the SDG - Larry, Larry Laffer and MG - L7 "Shove." continuing the playing with toys sequence using cars this time. The anarchy ball (See Nick Show Characters) begins to speak in this episode. What goes up comes down horribly hard in this episode where I go nuts trying to be entertaining with no steam, doing awesome things like looking at my shirts. Also after viewing this again when making the master tape of season one I realized that the interview was the most long god awful thing in all of creation, so I decided I would throw in a few seconds of static and that-would-be-that. So here is the clip of the Channel 17 News intro... more out-of-the-bedroom fun: "Channel 17"

Episode 106: Nick vs. A Tribute to Frank Cifaldi

Not only is Frank missing again but Billy's only appearance is in the Pre-Show news bulletin that gets re-aired. So as to replace them is the Financial Supporter, Robert Reynolds in his debut. I get kind of desperate for entertainment again so I have some god awful shorts such as "Laser hunter hunts a Martian in the Wilderness" and a toothbrush guide; however this also is the first appearance of the Godfather of Footwear (See Nick Show Characters). What really makes this episode special and unique is the awesome SDG - A video tribute to Frank Cifaldi featuring Nirvana "All Apologies." The MG - Hole "Gold dust woman." has a toy mutilation sequence which is slightly entertaining but not as much as the SDG. So in honor of this episode I give you the 4 minute long, 15MB file: "A Tribute to Frank Cifaldi"

Episode 107: Nick vs. Hades

Finale of the first season and it obviously starts with a lot of energy since Billy is back, even though according to the Pre-Show news bulletin Frank is still missing. New Nick Show motto, and D.A.V.E.'s Domain is explored by Billy... amidst this Frank is discovered in backyard unconscious. Gets recovered, reunited, and interviewed to find that a bad case of brain freeze caused him to pass out in the backyard... only the sprinklers and eating random things kept him alive. Cast shrinks and enters hell for interview of SDG - Hades. Then after some pills are taken the MG - Love Battery "Color Blind" comes on the show basically gets wrapped up with an All Apologies "drugged" dance party and some rushed quick segments. All in all a fitting end for a first season, the episode actually ends with full credits. In honor of this episode being the last of the first season here are three comedic clips:
"How many cartoons do you need?" - Billy explores D.A.V.E.'s Domain.
"I'm dead?" - Frank gets told about his video tribute.
"I CAN CHEW!" - Billy after being attacked by Cerberus is happy about the little things.