1/14/2023
As I mentioned a few days ago, I had repaired the Midi Dance Club using this guy's html midi player, but I was bothered with how horribly I implemented the dance club ~20 years ago. It was using a master frame page layout with the top part being a static frame up to the rainbow bar and the lower part being a static frame below the rainbow bar. The middle frame had two options, the category and the song. When you changed the category and hit the button you would navigate from page 1, to 13, to 50, and then the song pages behind each category were pages 2-12, 14-49, and 51-69 respectively. Meaning there were 72 pages making up the whole thing which made it incredibly painful to update or modify. Additionally this implementation with frames made sizing the page difficult on different screen sizes. Here is what the old page looked like: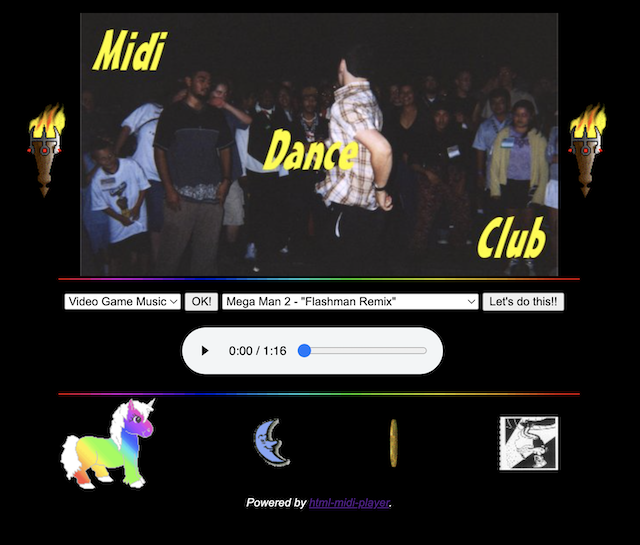 As you can see there are those little "OK!" and "Let's do this!!" buttons, which should be completely unnecessary. So I gave myself a little challenge to see if I could rewrite the dance club to be a single page and not rely on buttons. Sound easy? It was not. I had to learn about capabilities like onload and onchange events, using innerHTML to modify variables and html on load and on change, as well as do some snazzy for loops, if statements, and leveraging a few arrays. My 20 something self would be proud of me. Here is what the new page now looks like:
No more frames, no more buttons, when you change the category the song list dynamically updates and a new song loads, and when you change the song it dynamically changes as well. All of this completed on a single page. It's been a good long while since I've challenged myself with a coding project like this and it was both frustrating and fun along the way. Enjoy!
1/12/2023
So due to the Lastpass breach, I decided to go through and change all the passwords for everything I've ever used a password for and replace Lastpass as a password management solution. It was during this process that I changed passwords for some accounts related to this site. I was reminded how broken this site is and decided since it's been about a decade since I last touched this site, it was time to finally do something about this trash. So assuming anyone remembers this exists and comes here at some point over the next few years they will be surprised to see I removed the busted links to "The Guestbook", I repaired the Gallery, and I resolved the audio issues on the main and secondary pages. I also spent too long removing broken links from below and Links & Friends as well as fixing song and video clips from below and in the Episode Reviews so they work now. OMG and I added a favicon, repaired functionality to the Midi Dance Club, implemented https, and changed http hardcoded links and dead links like EVERYWHERE! "Why?" you ask. I'm not sure I have an answer for that. Mostly I think it was a challenge to see if I could still flex my limited html, web admin, and coding skills. Also it has bothered me how much has been broken on this site. Anyway, if for some reason you see this, shoot me a text or a message on one of the many social platforms I am on to let me know you were feeling nostalgic and remembered this site exists.
12/29/2013
Do you want to hear a funny story? I created the below update for 2012 at the end of 2012, but then I realized I was unable to upload anything via FTP. So I emailed my cousin Ian who hosts this relic of yesteryear for me and a few weeks later he got me set up to login. Fast forward to the end of 2013 and I have now found the time to get around to doing last year and now this year's update. I tell people all the time that I am busy but I don't think they really comprehend to what degree I have focused on work and my career. If I am not working I am being a husband to Chantel and a father to Audrey. In the year the only time I truly take for myself is around the Christmas and New Year break.
So now here is my update for 2013 for anyone that still remembers this site exists and checks it every year or so.
As I mentioned above my work life has been intense. My team grew to 23, we did two company acquisitions, and I reduced my travel this year to just Calgary, Columbus, Atlanta, Kansas City, Chicago, San Antonio, Las Vegas, and Anaheim. This year has felt like two years for me as the first half was filled with the acquisition travel, taking on three new products, and hiring; the second half was filled with taking back over another product, doing some data center relocations, and preparing for the birth of my new daughter.
Oh yeah, that's right... I have a new daughter! Her name is Madeline Frost Turner and she was born on December 18th at 1:05pm CST at 8lbs and 11.5oz. I think the time was cut in half of 5 hours of labor and 15 minutes of pushing. Optimized for her pleasure!
We moved to a new house in a different suburb of Austin around April and went to Vegas and Disneyland for Chantel and my 8th anniversary as well as to celebrate Audrey's 4th birthday. Both of us are now 32 and Madeline is a little over a week old. Everyone is healthy and I am hoping to be promoted in the near future.
Now if the degree to which I update this site is not satisfactory to you, then I highly suggest you join and friend me on Facebook. I update that thing all the time with pictures and the goings-ons of my life. This website is old and a pain to update. I'll either figure out someday how to re-architect this and make it easier or just start officially ignoring it. So no picture wrap-up of 2013 this time. I know, I'm lazy... deal with it.
12/30/2012
So I figured updating this site twice a year was too much work so I took an entire year off, but it is that time again. Oh what to talk about, what to share...
My work life only seemed to get busier in 2012 upon my promotion and my team grew to roughly 16 by the end of the year. We acquired more companies, relocated some servers, built out our office, deployed a bunch of software and hardware, held another conference, yadda, yadda, yadda... Traveled to Irvine, Las Vegas, San Antonio, Houston, Dallas, Chicago, Orlando, Grand Cayman, Costa Maya, Cozumel, Castaway Cay, and Calgary. Audrey turned 3 and Chanty and I turned 31.
This year was the 15th anniversary of the start of The Nick Show. I'm still living in Austin, TX with my little family and dominating IT departments all over North America. Billy is working construction/mining work in Las Vegas and his second daughter Ally was recently born. Robert and Hank are also in Las Vegas chillaxing it up supreme. Frank is still a video game journalist up in Oakland, CA. We see each other here and there but haven't had a true gathering in some time.
In the upcoming year I plan on working less, focusing more on my physical and mental health, while still achieving my career goals. Have quite a bit of national and international travel in front of my in January associated with work.
12/31/2011
It's time for my biannual Nick Show check-in. How are you? I'm doing great. As before, I am still quite busy and it has only seemed to get worse. The promotion at work I mentioned has taken me from managing one employee to now managing nine. I should be getting a new title associated with all of this added responsibility in the coming days, which I am jazzed about. Since last we spoke I've traveled to San Francisco, Santa Clara, Santa Monica, San Antonio, Orlando, Las Vegas, Dallas, and San Diego, and after the new year will be heading up to Chicago and Irvine again. Three of those cities were for actual vacations where the family and/or I went to celebrate some milestones; like Chantel and my 6th anniversary, Audrey's 2nd birthday, or Chantel and I turning the big three oh.
In my free time I mostly just work, so I am still not doing much WoWing. However I did get a chance to read the Hunger Games Trilogy, which is pretty great and I am also jazzed about the upcoming movie. Chantel has been working out like a lunatic and now weighs less than she did when we met at 16. Sadly my work life has stolen away from the time I usually spend working out and I'm not making any progress in that arena. We're still adjusting to life in the suburbs of Austin, TX. It's funny, a year ago I thought that the rough part was relocating and once we were here in this new job that things would slow down. Damn my ambition... here are some pictures over the last six months that I thought were worth sharing.
"Can money pay for all the days I've lived awake but half asleep?"
5/29/2011
Yeah, so my life has been pretty busy over the last 6 months. I went to Chicago once, San Francisco five times, and Los Angeles four times for work. Did a trip to Las Vegas with the family to finish the sale of the house and watch Conrad graduate. I've been working on a promotion at work, taking on the IT hosting side of the business in addition to the internal infrastructure. Audrey has started preschool and continues to be a little demon/adorable treat.
Haven't been playing WoW much, but did play Portal 2 which was quite amazing. Chanty is enjoying LA Noire at the moment. Also Game of Thrones is a pretty great show. Now here are the last 6 months in picture form:
"It's been a loooooooooooong winter... I've seen stranger things, happen, happen, before..."
12/15/2010
Wow... where to begin...
So around the time of Chantel and my 5th wedding anniversary, I got offered a job in Austin TX. I've always wanted to be the IT Manager and not just a grunt working for IT managers and my new employer offered me more money to achieve this career goal of mine. I just had to move my life about 1,250 miles from where it has been for 28 years. My new employer wanted me to spend my first two weeks in Santa Monica, CA at the HQ prior to my relocation. So we had Audrey's 1st birthday, went to Disneyland to celebrate our 5th wedding anniversary, and then I spent two weeks in California while Chantel packed our things and I tried to manage everything from abroad.
On Halloween I drove down with the animals to our new house in Round Rock, TX and Chantel left our house in Las Vegas to stay with her mom until our things arrived. On the previous weekend I drove from Santa Monica to Austin and Halloween weekend was a trip from Las Vegas to Austin. An added bonus was we all came down with a stomach flu at the exact time of all of this. Through all the insanity of October and November we finally all arrived in Texas and got fully unpacked and settled. We replaced the things the movers damaged and destroyed. We enjoyed Thanksgiving and have prepared for Christmas. I just had my 29th birthday. 10 ½ years after high school, 5 years after completing my bachelors degree, and 1 year after completing graduate school and here I am halfway across the US with my family.
And here I thought last fall/winter was difficult with Audrey's birth and finishing my master's degrees. I guess I wasn't kidding with the whole "miles to go before I sleep" thing. I'd like to think I'm done for a while though.
So as I gather free time my goal is to primarily upload pictures of Audrey into her gallery to continue to document how she grows and changes. Outside of watching TV, and playing video games. Speaking of video games, in World of Warcraft news my raid finally defeated the Lich King and then the new expansion Cataclysm came out and as a result I have been leveling Rodwell in all the new awesome content.
"So you can run and tell that, run and tell that!"
8/7/2010
FRANK TURNER Frank E. Turner passed away at the Homestead at Boulder City, Aug. 1, 2010. Born April 3, 1913, he was 97. He was born at home in Los Angeles, to James and Minnie Finch Turner. Frank had one brother, James Glen Turner. He graduated from John C. Fremont High School, where he met his future wife, Clara Kinion. They married Nov. 20, 1935, and had four children, Patricia, David, Kathleen and Steven. In 1933, at age 20, Frank decided not to go prospecting in Alaska with his father in order to become a gardener with the city park service. Frank worked for the Los Angeles Park Service as a gardener running a nursery for the City from 1935 until 1942. During the war, from 1942 to 1945, he worked at the Todd Shipyards in San Pedro, Calif. After the war, he returned to the Los Angeles City Parks Department. In 1946, as the Gardening Foreman of the Los Angeles Department of Water and Power, and he was transferred to Boulder City, arriving Aug. 12, 1946. He was appointed senior park foreman and remained as such until he retired in 1980. Frank received his Masonic Degrees in Boulder City Lodge #37 F&AM and became master Mason in April 1952. He served as master of Boulder City Lodge in 1958 and was elected secretary in 1961, a position he held for 26 years. Frank received many awards and citations for his exemplary service as lodge secretary, and when he stepped down from that position, he was awarded secretary emeritus status. Other organizations Frank belonged to were Boulder Chapter #14, Royal Arch Masons, Hiram Council #5, Cryptic Masons, the Ancient and Accepted Scottish Rite, Southern Jurisdiction, Order of Eastern Star, in which he served as an officer in 1956, 1979 and 1980, Zelzah Shrine, Ancient Order Nobles of the Mystic Shrine, Boulder City Shrine Club. He served as the DeMolay Dad and Rainbow Dad for several years. He also served as Grand Marshal of the Grand Lodge of Free and Accepted Masons of the State of Nevada in 1971 and received his 50-Year Pin from the Masonic Lodge in April 2002. He was predeceased by his parents; brother, Glen and Clara; wife, Clara, of 65 years, who passed away in 2000. Frank is survived by his children, daughters, Patricia Gribben and husband, Clark, and Kathleen Sublett, all of Reno; sons, David and wife, Kay, of Scottsdale, Ariz., and Steven and wife, Michell, of Las Vegas; nephew, Robert Frank Turner; six grandchildren; and seven great-grandchildren. Services will be at 11 a.m. Saturday, Aug. 7, at Grace Community Church, where he was a member, with burial at Boulder City Cemetery. In lieu of flowers, Frank's request was that donations be made to the Shriners Crippled Children's Hospitals, Zelzah Shrine Temple AAONMS, 2222 Mesquite Ave., Las Vegas, NV 89106-3723. "Little Lion Man"
6/24/2010
Happy St. Jean Baptiste Day and 13 year anniversary of The Nick Show!
As you can imagine, I've been busy over the last three months raising Audrey with Chantel. Babies are serious business. I'm in the process of uploading the last three months of pictures to Audrey's Gallery.
In other news, my raid has been working on defeating the Lich King.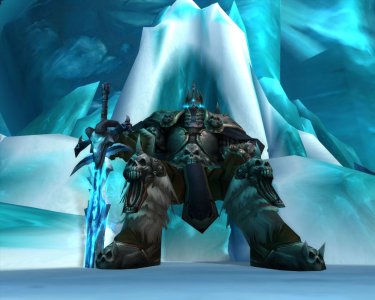 LOST is over and I am sad, however Chantel and I have been turned on to how good both Breaking Bad and It's Always Sunny in Philadelphia are. Now it is off to Reno for a wedding. Keep it cool daddio.
"Hot Dog, Hot Dog, Hot Diggity-Dog! We're splitting the scene, we're full of beans!"
3/9/2010
Audrey is a beautiful little girl and we have been documenting her growth in pictures and video in her gallery. We had professional photos done of her before she turned four months old and they turned out rather well even though she was just getting over being sick for a couple of weeks. She now just turned five months old and continues to grow and change into a little person right before our eyes.
Over the past several months I have been transitioning from my life as a father/grad student/employee to just being a father/employee. After graduation I went out and acquired a MCSA certification as my potential for career advancement required I do so. Now that I have achieved that on top of my MBA and MS, I am trying to just "take-it-easy" and catch up on life as a human being. I have stacks of magazines and comic books that beg for my attention as well as a Lich King to kill with my raid. I'm also enjoying the final season of LOST, it pains me that it will soon be over but I can't wait to see how it all ends. At least I have The Ricky Gervais Show and Caprica to keep me company.
I will be adding pictures and video of Audrey monthly to the site at the very least so keep tuned if you want to watch the little bugger evolve.
12/11/2009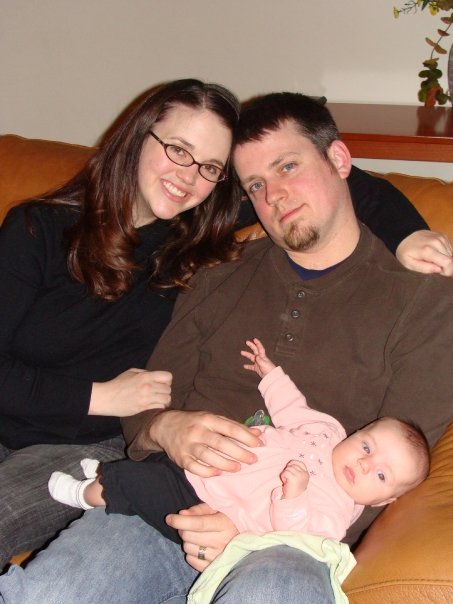 So I am now 28, and what do I have to show for it? A beautiful and wonderful wife that I have been married to for four years. A healthy two-month old baby girl that is starting to smile and coo. A stable well-paying job keeping hospitals in the business of saving lives. Finally... as of Tuesday December 15th at 4pm, I will be graduating with two Master's Degrees. My MBA and MS in MIS will be finalized in a couple of days and I took my last final last night. So where do I go from here?
Well there are a handful of certifications I would like to get and plan on getting now that I am done with my education. Additionally my research paper/pseudo thesis that I have been working on over the last year will potentially be published some day, once we can gather some more survey data and prove my hypotheses. The party never stops... but I can now spend more time with my little baby girl as she continues to grow.
Thanks to everyone that has helped me get to this point in my life, that has helped me accomplish everything that I have done so far, and has kept me sane and grounded. I still have miles to go before I sleep.
10/8/2009
On October 5th, 2009 at 8:09pm PST, Audrey Snow Turner was born at 8lbs and 13oz. It took 40 weeks of baking, 10 hours of labor, and 30 minutes of pushing. We're now home and she is finally able to use all of her things that have been patiently waiting for her. She's two days old and has a facebook page. Here are pictures I took before, during, and after the birthing process. Yes I am smoking cigars with Conrad and Billy in the parking lot of the hospital, yes they are Cubans, no I don't smoke, and yes they made me feel ill and stink, although the illness part was helped by my not eating all day.
Luckily I was able to take two weeks off from work so I can adjust to this little person that is now in my life. Adjusting is pretty hard, you have to figure out how you will live your life now that you have a little creature that needs to eat every two hours. Chantel was awake for 42 hours straight before we were able to figure out a method for her to go to sleep. I have a midterm tonight, so now I can figure out how to squeeze in more sleep, and study time. I resumed my consumption of beer the other day with a nice barrage of autumn brews.
9/5/2009
It's update time boys and girls! So... where to begin? Let's start with the upcoming bundle of joy. She's still in Chantel baking away, and is slated to arrive anytime in the next 26 days. We had an awesome Baby Shower/BBQ a couple months ago, and as a result have everything Audrey will need for the first year of her life. Her room has been ready to go for a couple of weeks and all of her many accessories are patiently waiting for her.
My final semester of grad school has started at UNLV. Taking Strategy, International Business, Law & Ethics, and my MIS Independent Study. Already got the big team presentation for Strategy out of the way so that I am not in a mad dash to get everything done at the last minute throughout the semester once Audrey arrives. The presentation we did in Strategy was a great success, which can be attributed to it involving fake moustaches and glasses.

The new job is going great. As of tomorrow I will have been an employee for exactly two months. I've been thrown into the deep end and expected to sink or swim; which is exactly what I am used to. Working in a hospital is interesting and crazy different from anything I have done in the past. I'm around more sick, dying, or dead people than I have ever been before in my life.
So Comic-Con came and went again, it was another great year in San Diego (Go Chargers!). We stayed at the Hostel again and this year all the pirates were reunited for fun and shenanigans. Personal high points for me were when I tricked a security guard into letting all of us into a concert, running into that one girl from BSG, and the final LOST panel. I actually uploaded all of the pictures I took faster than ever before, accessible here.
"Guilty cocker spaniels eating table scraps, when we rolled over how our masters clapped, it felt so good we wanted more of that, but when the program failed they defensively laughed sayin' "We did things just how you asked, don't try and taking us to task. You didn't buy a face, nope just a mask, So HAPPY HALLOWEEN!!""
7/22/2009
Comic-Con! I'm leaving on a plane in 14 hours to San Diego and the fun will begin. Hank and I will arrive by plane shortly after Frank will be arriving from San Francisco. Robert is driving out, and will also arrive on Wednesday. Billy won't be flying out until Friday night. I haven't had a drink of alcohol in 202 days, and I cannot wait to taste the sweet, sweet taste of booze. I might post pictures while I am there... and I might wait until I get back.

Meanwhile... over the last month I added pictures from random holidays in the gallery, and also pictures of how Audrey's room is coming together. I started my new job, and it is going swimmingly. Please don't end summer... please?
6/24/2009
Happy St. Jean Baptiste Day to you and yours! Also, it has been 12 years of The Nick Show. What a long strange trip it's been.
To celebrate, I have uploaded all the pictures and video from the 2008 San Diego Comic-Con in the gallery. Not as many pictures as my SDCC '07 record of 513... but still a ton of pictures. I feel 2008 was probably the best Comic Con ever... but each one is special in their own little way. It is crazy looking over the last 8 years of cons and seeing how my friends and I have all grown and changed. Anyway, it is fitting that I got around to uploading these, seeing as how Comic-Con '09 is only 30 days away.
The 2008 Con saw the loss of Billy and Hank, but the rise of Brandon. Not only is Brandon good times but he also is associated with free booze and food. What more could a friend ask? Sadly 2009 will not contain any Brandon-action but Hank and Billy are returning. The bastards better be worth it. Anyway, hope all is going well for you and yours... see you in San Diego!
6/21/2009
Happy Father's Day! As I have a baby on the way this is my first semi-official Father's Day. So what I am doing to celebrate? Updating this website apparently. So I have updated the top navigation bar to provide a direct link to the gallery. Since it is one of the only areas of this site that will receive updates it makes sense to give people direct access to it. For those nav-bar challenged out there I have also added a link in the Pictures of People section using the picture you see below.
Additionally I have unlocked the 2007 and 2008 links to the San Diego Comic-Con on that page. Since the 12th anniversary of The Nick Show is in 3 days I am planning on uploading some content to the gallery that I have put off from doing. One of them being the 2008 pictures for Comic-Con.
Aside from things pertaining to this site, I have just been trying to live a normal work/WoW-filled life and enjoy the break from school. My grades for last semester were good not great. I got 2 A's and 2 A-'s, which is BS because I was a percentage point away from the illusive straight-A semester in both classes. Curse my professors and their arbitrary grading!
So after 4.5 years of doing IT in the real estate sector, I am now abandoning that for health care. I was offered and accepted a new position as a Senior Technical Analyst. The job pays more and has amazing benefits. Unless all hell breaks loose, I will be starting there on July 6th.
Aside from all that, we have been preparing Audrey's room and should be getting her furniture next weekend. We have a baby appointment tomorrow and might get some more pictures of her, but it is hard to say. All is going well and on track for her tentative 10/1 arrival.
I am currently working on downing Yogg-Saron in my 25 man WoW raid. Also Chantel and I watched all 5 seasons of The Wire on HBO and I have to say, it was really great. Talk to you all in a couple days.
"I'd love to comb your hair, your hair is such a mess, just take off that dress, I'd love to comb your hair."
5/9/2009
Well I am sure glad THAT is over. This week I just finished up my fourth semester in graduate school. I took all MIS (IT) classes this semester and let me tell you, they were tough. I've never had a semester as challenging as that. Now I get to enjoy three months of summer and then I go back for my final semester. If all goes according to plan I will walk away with a MBA and a MS in MIS this December. I should know my grades from this semester in another week.
Outside of school, work has been crazy. Moved our HQ again, and I survived another round of layoffs and restructuring. I am invincible! Work has been crazy demanding though and I have been working constant weekends and long nights. At least my new office is closer to school, so that makes life a bit easier on me.
In baby news, we have gone to two other ultrasounds since my last post and guess what? It's a girl! Her name will be Audrey Snow Turner, and here is her gallery of pictures. There's even a 3D picture in there on the week 18 photos. Crazy how far they have come. When I look at them I can't help but think of this:
In other website news, I have uploaded all the pictures from Chantel and my 3rd Anniversary trip to Disney World. Also, I finally got around to finish uploading the San Diego 2007 pictures in the gallery, which I started last October. I've given up on giving them individual names, which should speed up the process of uploading tremendously. I plan on getting all of my galleries created and uploading all these damned pictures ASAP.
Congrats to Tasha on graduating with her bachelor's degree, I'm heading to her ceremony and party after posting this. Also Happy Birthday to Michell, my step-mother. Finally Happy Mother's Day to all of the ladies in my life. Except Valentine... you're no mother.
Also, just saw Star Trek last night and it was amazing. Also LOST's season 5 finale is next week, and I am excited about that. The show still rules. Hope everyone is doing all right, love you!
"I'm miles from where you are, I... lay down on the cold ground, and I... pray that something picks me up, and... sets me down in your warm arms."
3/25/2009
Only a month later, not too bad if I say so myself. So I have been inundated with work and school. Nothing really exciting to report... except... BABY!
"It's all fire and brimstone baby, so let's go outside... It's all fire and brimstone baby. I got my brand new pistol baby."
2/24/2009
So... the last two months... again. Well, Barack Obama is now the president. I started my fourth semester at UNLV for my dual masters program. I think this semester might be the death of me, but there will be one more before I am done. Rodwell has started raiding in WotLK. I killed all the Horde bosses and finally murdered Kel-Thuzad:
More importantly, I am going to be a father in seven months. Chantel and I started trying after the new year, and well... it didn't take long. You can expect more baby pictures and baby related updates as I learn them. Consider this the first:
I hope everyone is doing all right, I'm just trying to keep my head above water. Talk to you all later.
"While my mother waters plants, my father loads his gun. He says, 'Death will give us back to God, just like the setting sun, is returned to the lonesome ocean.'"
12/22/2008
So... the last two months. Well, Barack Obama won the election. I finished up my third semester at UNLV for my dual masters program with 3 A's and an A-, making it my best GPA semester of my entire college career. I threw an event for my MBAA group in November. I turned 27 years old. Rodwell was leveled to 80 in World of Warcraft and is still questing for gold and doing beginner WotLK instances. My employer LandAmerica declared bankruptcy making my job status up in the air, and then Fidelity stepped in and acquired the portion of the company that I work for, keeping me employed for the foreseeable future. Finally, the Chargers were left for dead and through luck and hard work, are now a game away from making it into the playoffs.
Yeah, a lot happens in short amounts of time. Since I am currently on a break from school for another three weeks, I have lots of plans for my free time. Some of which involve this website, we shall see. So any-who... Merry Christmas everyone! I know times are tough right now, but I have this bizarre feeling that everything is going to be all right.
10/25/2008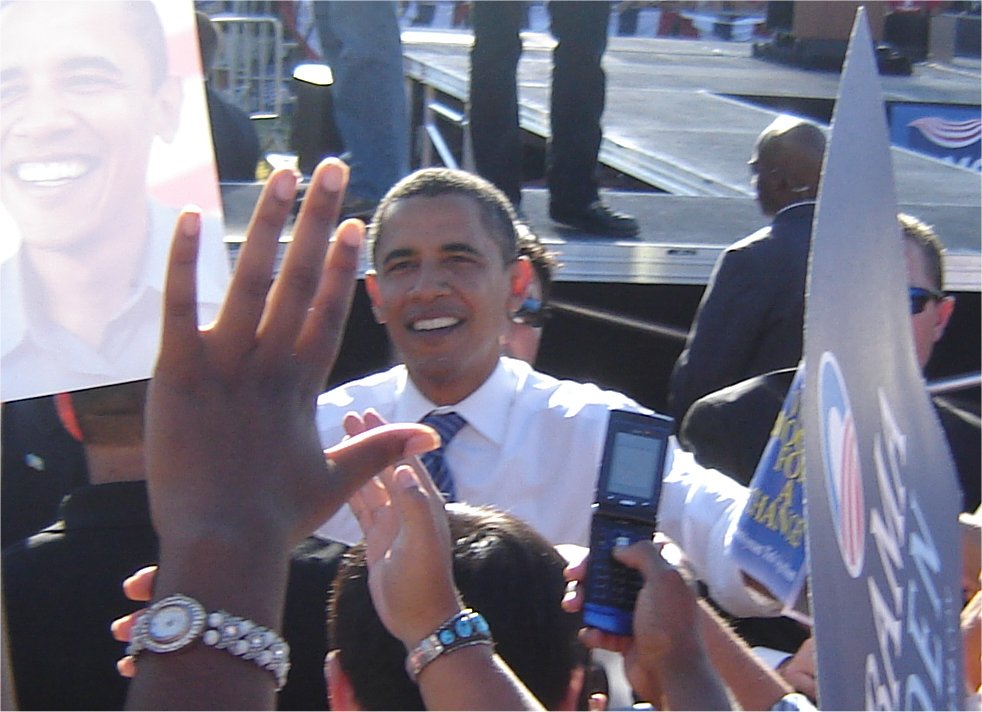 Obama '08! Four months ago, after caucusing for Obama and watching the drama of the primary season unfold I was thrilled to see Barack Obama clinch the nomination for the democratic candidacy. I am also thrilled to say that I finally got the chance to see him and be within 5 feet of this impressive, transcendent, and awe-inspiring man. I have already cast my vote early in NV and eagerly await 11/4 which is approaching rapidly. The rest of my pictures and video taken at the rally are located here.
So outside of all of that, I have been inundated with work and school which is the norm for me during school semesters. Billy Berkey just got married yesterday and I was proud to be my good friend's Best Man. I took a ton of pictures and will be uploading them and others shortly. Not only do I have pictures from the San Diego Comic-Con that I need to upload, but I have pictures from Chantel and my 3 year anniversary vacation to Disney World I need to upload. Until then, stay classy.
"You can't make this stuff up, it was maybe the strangest twist of this very strange election."
9/6/2008
So. Comic-Con came and went and it was great. Frank, Robert, Brandon, and I had a fantastic time. I started uploading pictures from 2007 but have not completed that task. Before I knew it PAX was upon me again and it was back to Seattle for some Annarchy action. That was also a blast. So since there were fewer PAX photos I uploaded them this morning. Check out PAX 2007. I also just finished uploading all of my wedding photos. Check it out.
Also my second full school year of my dual masters program at UNLV started. So there goes a lot of my free time down the drain. Taking Finance, Marketing, Supply Chain, and Advanced Topics in MIS. I can hardly contain myself. Also this year I am an officer in the MBAA and I helped make our website super sexy.
In sadder news my grandma Lee Koch passed away the other day. I loved her very much and she was a huge inspiration for me going into graduate school. I'm almost halfway through the grad program and I will hopefully complete it next fall. RIP Grandma Koch.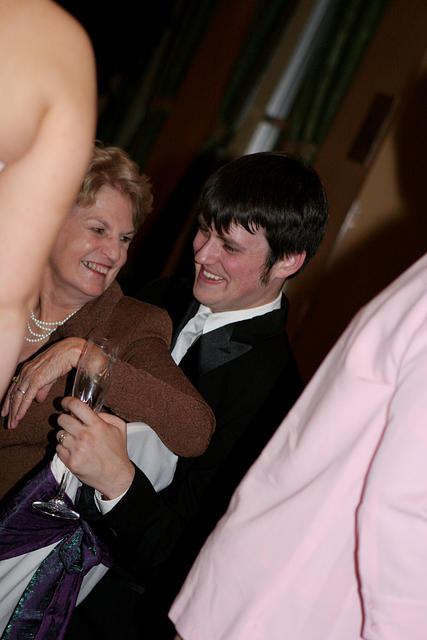 "The dead can hide beneath the ground and the birds can always fly, but the rest of us do what we must in constant compromise."
7/23/2008
In the past 48 hours I have uploaded all my remaining Burning Man pictures; as well as the pics from the 2006 Comic-Con, which was 319 photos all on its own. You'll see the 2005 and 2006 links are now active under the Pictures of People section, or you can just go to the Gallery direct. What an ordeal that was... and I have miles to go before I sleep.
Another cool feature I was able to add to the gallery were some videos I shot at the 2006 Burning Man and Comic-Con. Now it is off to the 2008 Comic-Con, although sadly this will be the first one without Billy, and Hank will not be returning for a third adventure. Instead we will now be rooming with Brandon of Gamasutra fame, whom I met at last year's 'Con, and got to know more at PAX and beyond. Those pictures will come up some time once I return from my travels. Try to contain yourself until then.
"They call me the Hip-hop-o-potomus, my lyrics are bottomless..."
7/21/2008
Well it has been about a month since the 11th anniversary and I am finally delivering on promises I have made for years to make major changes to this site. It will start with a whimper, no bang. Sorry. Basically when I was in Lake Tahoe for Conrad and Tasha's wedding I came to the realization that I should decommission my IIS/Exchange server and just use Ian's hosting service.

Why? Well for one, after 4 years of service my server is starting to lock up and I hate troubleshooting computer issues at home. Additionally my attempts at getting Gallery to work on my server didn't pan out, and the tech support forums for Menalto leave a lot to be desired. So I caved in and moved all my data to his hosting, gmail is now managing my thenickshow.com e-mail, and redirected my name servers to his. What you are viewing now is all on their servers and my home office is now free of the constant hum.
So here is the new Nick Show Gallery. I will be adding to it more as the days pass. If you check out the Pictures of People section you will see that Burning Man 2005 and 2006 have been enabled. Look out world here I come.
Outside of this site, I have seen The Dark Knight twice, that movie is crazy awesome. Also, Who watches The Watchmen trailer? YOU! Go look. Too much awesome! Ah, and let us not forget Dr. Horrible's Sing-Along Blog. ...TO COMIC-CON!
"Cause you're so beautiful... like a tree. Or a high class prostitute. You're so beautiful, you could be a part time model. But you'd probably still have to keep your normal job. A part time model. Spending part of your time modeling, and part of your time, next to me!"
6/30/2008
So Conrad's bachelor party was a huge success. Had a crazy amount of fun, and a bit too much to drink. I was told I was crazy and insane a lot that night. In other news, my raid was able to finally murder Illidan. Our first attempt got him down to 6% then it was a bit rough after that. After about 3 hours we finally had an amazing attempt and killed "The Betrayer"

It only took about a month from the Archimonde kill, I was at, for us to pull this off. We probably could have done it sooner if it wasn't for the raid having attendance issues during the summer. After the kill we headed into the Sunwell Plateau, the last instance of The Burning Crusade. I highly doubt we will be able to kill Kil'jaeden before Wrath of the Lich King comes out, but only time will tell.
"You might be a big fish, in a little pond, doesn't mean you've won, 'cause along may come a bigger one... and you'll be lost, every river that you tried to cross, every gun you've ever held went off. Oh and I'm just waiting 'til the firing stops, Oh and I'm just waiting 'til the shine wears off."
6/24/2008
It's The Nick Show's 11th Anniversary!!!
What's that all mean? Well... not that much. Sorry! I've been having issues with the php install of Gallery2 and their installation help forums are useless. Additionally I am not 100% thrilled with the concept of a site redesign. I just want to get the damn picture gallery software functioning before I dream up larger projects for myself.
Additionally I have been spending most of my weekends getting drunk in downtown Las Vegas, then reeling from my hangover the following days. I'd like to say that is coming to a close, but this weekend is Conrad's bachelor party. In just two weeks, on 7/11, my brother-in-law will know the deep pains of matrimony and I will be there to enjoy some time away in lovely Lake Tahoe. Two weeks after that is Comic-Con 2008!
Since Comic-Con is coming so quickly the pressure is on for me to catch up on some backlogged comic books, as well as get pictures from the last two years on this site. I think I will be able to complete this, whether php will allow me to or not.
In nerd news, I won an election! My WoW guild Annarchy held an election for a temporary officer position and I was able to beat out my competitors. I couldn't have been running against nicer people too. I think I was able to pull ahead with my campaign slogan, "Vote well, Vote Rodwell." So I am trying to fulfill my duties in my elected position in the guild, and having a great time doing so. One of the guys in our guild, Davos, designed a kick-ass logo for a t-shirt. Check it out: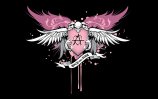 Finally, I just wanted to say R.I.P. to both Waylen Souza and Jim Wheeler. It was an honor to have known the both of you.
"Those who are dead, are not dead. They're just living in my head ...and since I fell for that spell, I am living there as well. Oh... time is so short and I'm sure there must be something more..."
6/4/2008
So this Friday marks my 8 year anniversary of my high school graduation from Chaparral. I love how everything has a website now. MOAR COWBOYZ PLEEZ. /sigh...
Also on the 24th of this month we will again be celebrating St. Jean Baptiste Day marking the 11 year anniversary of The Nick Show. Oh how the time does pass. If I hold myself to it, I might be able to pull off my potential site redesign, or at the very least my picture gallery to mark this fine occasion.
In other news, Obama has secured the democratic nomination, marking this as a historic moment in American history. I hope this country is smart, and decent enough to vote him into office.
"Everyone's unhappy, everyone's ashamed, well we all just got caught looking at somebody else's page. Well nothing ever went quite exactly as we planned; our ideas held no water but we used them like a damn."
6/2/2008
So I began that process of trying to add the picture gallery to the site, and GOOD LORD what a crazy amount of work and troubleshooting this has been. It unfortunately breaks my rule of not having to work on complex computing issues at home. Well I got PHP, MySQL, and half a dozen other programs set to work with Gallery, but the damn software won't install. I am also contemplating a site redesign. The original site design was sad and atrocious, and I have enjoyed this one for quite some time. I think it might be time for something new.
Well the LOST season finale aired and I thought it was fazmatasmic. I cannot wait for this years Comic-con so I can see what the deal is with Octagon Global Recruiting. I think Season 5 is going to center around what has been going on on the island for the past 3 years. Also at some point last year I started watching Battlestar Galactica and that show is phenomenal. I used to use it as a benchmark for nerdiness, "At least I don't watch Battlestar Galactica!" What a fool I was.
Hopefully in the next week I will make some progress on ye ol' website and I can wow you with progress.
"Here we go... If god controls the land and disease, keeps a watchful eye on me, if he's really so damn mighty well my problem is I can't see, well who would want to be, who would want to be such a control freak? Well who would want to be, who would want to be such a control... freak?"
5/26/2008
Happy Memorial Day peoples! Yesterday was Chantel's and my 10 year anniversary. So we celebrated this momentous occasion by getting ourselves tattooed. Check it out!
I'm the binary tattoo and she's the pretty positive/negative hummingbirds. Yes, that's right, I finally ended the contest: tattoo decision 2003. The winner? B! Yeah... this tattoo was roughly 5 years in the making. Apparently tattoo artists hate doing binary and barcode tattoos ...and NO my tattoo idea was not a blatant rip-off of the new Angelina Jolie movie.
Screw you! Go back to my 10/19/2003 news post and look at that if you don't believe me. Bastards. Bitch can't hold a candle to me.
In other news, Chanty and I saw Indy 4 and were displeased. The fridge + A-bomb thing was so over the top it ruined things for us. Also the CGI was annoying and distracting. Oh!, and like I mentioned last time, I was finally able to kill Archimonde and get my tier 6 hat. Two set bonus FTW mamma-jamma!

Now I just need to kill Illidan in the next couple of weeks, so I can feel like a real man. Then it is on to Sunwell! I started working on that new way to upload pictures, but I am not done yet. First thing I had to do was organize the obscene amount of pictures I have. Then I had to get SQL server express running on my server. It shouldn't be long now.
"In your tears and in your blood, in your fire and in your flood, I hear you laugh, I heard you sing, "I wouldn't change a single thing." The wheels just keep on turning, the drummers begin to drum, I don't know which way I'm going, I don't know what I've become."
5/21/2008
I'm back baby! I know, I know, I know... Listen, I'm sorry! So I've got a lot of explaining to do, so I figured I might as well break my explanation into little categories so that my ramblings shall be somewhat organized.

Comics - Well for some reason I have been sitting on several comic art submissions from Chantel for a while now. They have finally been uploaded and are displayed at the Nick's Comics section. She rocks the medium of Microsoft Paint.
World of Warcraft - So when last we spoke I was entering the two final instances of WoW pre-Patch 2.4. Well as you can see by the screenshots below we have got to the final boss of both instances. My raid has actually killed Archimonde twice, but I was unfortunately not available for the kill thanks to the semester ending. I will hopefully be killing him in the next two days. We should have Illidan down shortly. Since we are not a Top-Serious-Raiding Guild, we go slower then most. After we kill Illidan a couple times then it is off to Sunwell Plateau.
School - So this last semester was a banshee. From what I was told I ended up with an A, A-, and 2 B+'s. If I can keep this up, I will only need to complete three more semesters of four classes and I will have my two master's degrees. On top of this I became the Director of MIS Relations for the MBA Association; I plan on helping them with their website over the summer to add to the 2008-2009 school year. I am so happy to have free time again!
Personal Life - Well, this year I am going on a handful of trips. In July not only is my brother-in-law, Conrad, getting married at Lake Tahoe but I am also attending the San Diego Comic-Con as usual. In August, Billy (...of The Nick Show fame) might be eloping in Hawaii, and sometime after this I will once again be going to Seattle for PAX to hang out with my guild. Then for Chantel and my three year anniversary we will be going back to Disney World for the Wine and Food Festival. Shortly after... another wedding. 2008 is apparently for lovers.
Umm... what else? - Well obviously I have not had the website bug in me until now since this semester just ended. Spike is off of his medicine and completely healthy. I am sad that the Chargers did not make it the whole way, but I was happy that the Patriots lost. LOST season 4 has been amazing and fills my life with joy. I have also enjoyed this season of Battlestar Galactica. I am WAY behind in my comics and will be cleaning out my box at Alternate Reality Comics and catching up on my stories.
In conclusion, I have some time on my hands, so I hope to finally catch up to this site in the near future. I have a new way to manage pictures I want to integrate into the site that will make working on the site more of a pleasure then a pain. Anyway, I wish you and all of yours a fine how-do-you-do. Now it is time for me to embrace sweet, sweet sleep. Toodles!
"So go, I know you would not stay, it wasn't true, but anyway..."
1/7/2008
Just so everyone is aware, I didn't die... the busyness has just kept on coming. Chanty and I turned 26, I completed my first semester of Grad school with 2 As and a B. My raid in World of Warcraft has conquered both Serpentshrine Cavern and The Eye.
Now we are working on Mount Hyjal and the Black Temple. Spring 2008 is starting and I was officially admitted into the Dual MBA/MS in MIS program at UNLV. Hopefully I will complete the program by 12/09. The Chargers made the playoffs and won their first game. Spike's spinal fluid is no longer being attacked and he is weaning off of his medication.
2007 was a crazy year and seemed to have more bad in it then good, and thankfully 2008 has started off really well. Hope everyone had a great Halloween, Thanksgiving, Christmas, and New Year. If I get the website bug in me, I will be back to upload pictures.
9/15/2007
So... I went to Ireland, and then I went to Paris. I came home, and then went to Comic-Con 2007, then I came home for a month and went to PAX 2007. Then I came home and started Graduate School at UNLV. Also Spike came down with an illness (too many white blood cells in his spinal fluid) that we have been treating him for, and he seems to finally be making improvement. I've continued my raiding in WoW with my Guild. We are currently working on Leotheras the Blind, and just downed Al'ar.
Today however is Robert's birthday, in which will involve lazers, sushi, and Modest Mouse. Oh what a day, what a happy day. Sorry for neglecting the site, but as you can surmise I have been friggen busy these last 3 months. We've now lived in our new house for one year, and my two year wedding anniversary is a little over a week away. Oh and football seasons has started, GO CHARGERS!
"So I've become the middle man, the grey areas are mine, the in-between, the absentee, is a beautiful disguise..."
6/24/2007
It's The Nick Show's 10th Anniversary!!!
What's this mean? Updates! Updates! Updates! I've got pictures and commentary from the last several years! You want Warcraft info? I gots warcraft info! Oh my god, someone just fired a shotgun in a crowded room! Look out!
So in the next couple of months I will be heading to Utah, Ireland, France, San Diego, Seattle in a whirlwind trip I like to call, "Happy 10th Anniversary Nick, let's check some shit out!"
What's that? Don't believe I actually have updates? Well suck on THIS!
"Who the hell made you the boss? We placed our chips in all the right spots, but still lost, Any shit-head who would ever walk, could take the ship and do a much finer job. This fit like clothes made out of wasps. Aw fuck it I guess I lost."
3/7/2007
In an effort to keep Spike Beagle from being a sad lonely deeeg, we went to the store and got him a little female beagle pup friend. Since Spike is named after Spike Spiegle of Cowboy Bebop fame, we decided to keep with that naming structure and name her Baye Valentine, after Faye Valentine.
I am aware how nerdy I am, thanks. So outside of dealing with a puppy, which is a full time job in and of itself... I have been busy with two W's, Work and Warcraft. I got Rodwell to level 70, and am in the process of acquiring the 5k gold to get my epic flying mount, and getting keyed for Karazhan.
UFC fights, UNLV Rebel Game, Valentines Day, Love, have all come and gone... and I am scheduling my vacations in July... heading to Ireland, France, and then San Diego. More on all of that later...
New LOST Tonight! I can't wait, fuck the nay-sayers, Lost is the SHIZ-KNIGHT! Well just wanted to pop in and say, "How-do?" and now that this is done, it is back to my life. Peace out!
1/9/2007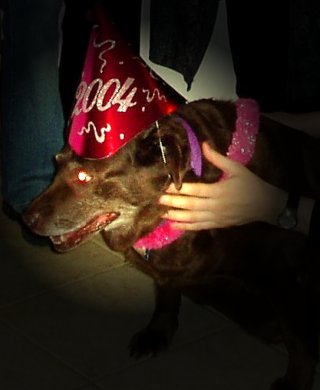 Wonka Howlett-Turner
6/1/1994 ~ 1/3/2007
On June 1st, 2001, Wonka had only 24 hours left to live. She sat shoved to the back of her cage by two over excited pit-bull pups. The sign on the cage read, "Chocolate Lab, Obese" and under the special notes, "I have 24 hours left!"
Chantel decided to rescue poor 7 year old Wonka, and begin treating her obesity, and skin & respiratory infections. When I first met her, she breathed louder and was fatter than any dog I have ever known and sneezed green snot on the floor.
Over the years, with many walks, controlled eating, shots, baths, love and care Wonka didn't even resemble the dog Chantel found on death row.
Wonka was put to sleep on January 3rd due to an enlarged spleen and respiratory growth in her lungs that finally made it to where she couldn't even eat... her greatest passion. She was not alone in her final moments, and was comforted and petted until the very end...
Her ashes were spread at the garden of the Craig Road Pet Cemetery on 7450 W. Craig Rd. I'll always miss you my Wonka-bear.
"If I lay here, if I just lay here, would you lie with me and just forget the world. Forget what we're told, before we get too old. Show me your garden that's bursting into life... tears stream, down your face, when you lose something you can not replace, tears stream, down your face, and I.... tears stream, down your face, I promise you I will learn from the mistakes, tears stream, down your face, and I.... If I lay here, if I just lay here, would you lie with me and just forget the world..."
12/15/2006
So just when I thought I was out, they pull me back in... I earned my freedom from WoW then I get selected to be a Burning Crusade Beta Tester... bastards. This led to a spiral of WoW playing and guild involvement the likes of which have never been seen by man. I've been to the Twin Emperors in the Temple of Ahn'Qiraj, I've been to the other said of the Dark Portal in the Hellfire Peninsula, I've dominated Molten Core and became 8/8, I also raided the UnderCity in a server crashing 1,000 man worldwide event dubbed "Everything Must Die"
So Halloween came and went, I had two costumes that rocked man. The first was the Magician Hobo King, and the second was a Pedophile.
...Thanksgiving and my birthday also came and went. I am now 25, so look out Car Insurance companies! I'm coming, I'm coming to git'cha! So outside of work being hectic at this time of the year, holiday shopping consuming my time, and generally trying to be lazy and a gamer when I am at home and not out drinking, I don't see myself updating the site significantly anytime soon. Hope all is well with you and yours! Peace out dawgs!
Oh yeah and check this out! Can you do any less?

"When you try your best but you don't succeed... when you get what you want but not what you need... when you feel so tired, but you can't sleep... stuck in reverse... "
10/26/2006
As I explained a month ago, I decided to buy a house... so that explains my inability to update the site with any of the juicy content that is sitting on my desktop, laughing in my sad little face.

That being said, I just wanted to say Happy Halloween to all you suckers out there, and let you know that I have been freed. Just as King Théoden was freed from the control of Wormtongue, so have I been freed from World of Warcraft. I still play mind you, but not to the degree of insanity that was consuming my life. I have my weekly BWL, MC, and the occasional ZG, but I have scaled back dramatically. Every night, EVERY! NIGHT! and my ENTIRE weekend was taken up with raiding. Which left little time for my other vices.

Now that I have been freed from my foolish obsession with love, my website and I (at the risk of sounding pretentious) will return to comprising a dramaturgical dyad. Or so I say... <evil laugh> "...but I'm waiting patiently, and I'll wait for the sign.... but I'm waiting patiently, and I'll wait for the sign!"
9/17/2006
So I've got a lot of 'slpanin to do... We went to the Comic-Con, as previously mentioned, and it was awesome. I got trashed and we went to private parties and I met bizarrely famous people like Jeff Smith creator of Bone (who was cool enough to put our group picture on his blog - click his name), the guys from Star Wait, and Brian Posehn. I'll have more on this obviously once I get around to updating that part of the site. Here are some random group shots...
Then Chantel and I decided to buy a house and move; which caused the website to go down for several days like a week ago, and on top of all that we still found time to go to Burning Man. I'll have more kick-ass photos regarding this in a bit (1-2 years) until then please enjoy the random photos...
So outside of traveling, buying a house and moving, and living my life, I have continued to keep the World of Warcraft torch burning brightly. On top of killing Onyxia and Ragnaros on a weekly basis, I have expanded my raiding to include killing Nefarian, Hakkar the Soulflayer, and Ossirian the Unscarred. As seen below...
Sorry for being a flake and ignoring this site for two months, but I think we are all used to that by now. I still need to unpack, and play more WoW... miles to go before I sleep, miles to go before I sleep. "Far away... this ship has taken me far away, far away from the memories, of the people who care if I live or die... The starlight... I will be chasing the starlight, until the end of my life, I don't know if it's worth it anymore... Hold... you in my arms; I just wanted to hold... you in my arms... "
7/19/2006
Well it is off to the Comic-Con with the BOYZ. Hank, Robert, Billy, Frank, and I are flying out to the San Diego area in less then 24 hours to cause a "ruckus" or the nerd-ier equivalent. I've got all the pictures of previous items, and I need to use them... but my Warcraft-leanings have been consuming me lately. Don't believe it? See for yourself. Onyxia and Ragnaros PWNED!!
I promise I will get some content upon my return. Thank you and good night. "No one's going to take me alive... Time has come to make things right... You and I must fight for our rights... You and I must fight to survive..."
7/7/2006
THIS WEEK, in "As if anyone actually cares!"

So St. Jean Baptiste Day has come and gone... the Nick Show 9th Anniversary. What was done to celebrate? I actually got my Burning Man, Comic-Con, Honeymoon, additional London photos, etc... developed!!! Why did I take a million years? Well they were cheap throw-away cameras and developing those pictures then scanning them is one hell of a bitch. So I cheated and had them put them on CD. Now I am going through my art dude motions of updating photos on this site and prepping the big update.

So what's the hold-up? Well my good buddy Rodwell has been keeping me pre-occupied. Level 60 baby! 7/8 pieces of my Tier 0 armor set collected, and I am on my way to swapping them out for the Tier 0.5!!! I know, I know it's a sad sick obsession, and I had it beat for a short time... then, just when I thought I was getting out... they pulled me back in.
Anything of worth in this update? No not really, this is one of them-thar explanatory updates, as to why I am a lazy jack-ass... and you know, to comfort you into knowing I am not dead. That's always nice. Hopefully I will get this shi-i-te done before the Comic-Con in less then two weeks. "I'll see you in hell Artie! Who dis?" "You might be a king or a little street sweeper, but sooner or later, you dance with the Reaper!"
6/11/2006
In August of last year I mentioned getting my London 2004 pictures on the web... Guess what never happened? I have had this back log of London '04, San Diego '05, and Burning Man '05 pictures that I planned on eventually getting around to, but the problem is my previous method of displaying all these pics was quite an annoying undertaking. With the new slacker-compatible method of getting these pics available, I can finally make good on my word.
Ladies and Gentlemen...
"Life is no cabaret... We don't care what you say,.. We're inviting you anyway..."
6/6/2006
6 years from my High School Graduation on 6/6/2006... DUN-DUN-DUN!!!
So if my plan has worked then everyone has abandoned this site... just like me! Nobody wastes there time coming here for new content, because they have all become scorned lovers. It's cool... I understand.
What have I been up to? Well this for one: www.kinnikin.com (no longer own domain - NT 01/12/23). ...and my working on that site has inspired me to actually change how I update the San Diego and Burning Man content on this site... well for the new stuff anyway. This will remove my slacker nature... theoretically, since showing pictures of things will have become 1000x easier.
Also I played and beat Dreamfall (amazing!), Syberia 2 (eh...), and Psychonauts (hilariously awesome!) finally... which was all very fun.

Some... Awesome... CHANTY ART/COMICS!
"God it's been a lovely day, everything's been going my way, I took out the trash today, and I'M ON FIRE!"
4/1/2006
APRIL FOOLS!!!... oh wait. Umm... I died.
APRIL FOOLS! I can't believe you fell for that... IDIOT! So in other news they have decided to send a Beagle to space. I've got proof.
APRI... you get the idea. More to come! Assuming I ever come out of my self induced coma! "Help... I have done it, again... I have been here many times before... hurt myself again today... and, the worst part is there's no one else to blame."
2/14/2006
Happy Valentine's Day ALL! I am finishing up a 4 day weekend of no work in celebration to this being my 8 year anniversary of joining the workforce. I would like to thank Best Buy, CompUSA, Radical Networks, & LandAmerica for making this all possible. Thanks for the money that you gave me in exchange for the services I provided you. In honor of my 8th, here is a work-inspired comic by the wife:

What blows me away is that she does this all in Paint... what a lunatic... IN BED! As always you can find this trash in TEH n1ck sh0w Comic Shoppe for FREE! What's that? Kisses for free? OH SHIT I GOTTA BOUNCE! "You're sorta stuck where you are, but in your dreams you can buy expensive cars, or live on mars and have it your way... and you hate your boss at your job, but in your dreams you can blow his head off, in your dreams show no mercy..."
2/2/2006
Well because the comics don't seem to be stopping from Mrs. Turner I made a section in the Comic Shoppe for her and rearranged how the Shoppe looks. Fascinating really... So check out the Lady of the... Paint's new works: KITTENS?!? and AHHHHHH!!!
Also, I guess it is time for me to stop hiding the fact that I made a My Space page... not proud of it, but if you are one of those My Space Types... then feel free to evaluate it, in your My Spacey-fashion. That is all. "Stormwind"
1/26/2006
So 2006 came, and so did all of we...? Warcraft has been the name of the game. Also did you know that it has been doing it all night long? I'm not sure what that means, but look at this.
Chanty has been playing too, and had to open her mouth about all the injustice that she sees... Enjoy! "Runt-dunt-dunt dunt, dunt-dunt-dunt, dunt-dunt-dunnuh!"
12/28/2005
Straight outta Compton, I got WEBSITE CONTENT!
Check out this comic, it's made BY MY WIFE! I think that it's funny, KINDA LIKE TRUE LIFE! Isn't it CrAzY how good SHE CAN DRAW! You know I wish... that I... COULD DRAW!
Now how 'bout some pics, of my GRADUATION! I'd like to throw U.N.L.V some big-up SALUTATIONS!
I know these pictures are blurry, but WHAT CAN I DO, it's not like I've got mad hits, LIKE I WAS ROD CAREW! "Lazy Sunday"
12/22/2005
Sorry about that... that friggen took forever to get my grade for that class! So, what has been going on? Well I got my B.S.B.A. in M.I.S. from U.N.L.V. I like acronyms! Also I turned 24... like any of you bastard jerks care. Other then that I have been preparing for the holidays... and about a million other things. Like I went snowboarding for the first time ever at Brianhead, UT. That was a very painful adventure. So Happy Holidays to one and all... and may your next year be as amazing to you as this one was for me. "We're going to have to watch that again..."
11/24/2005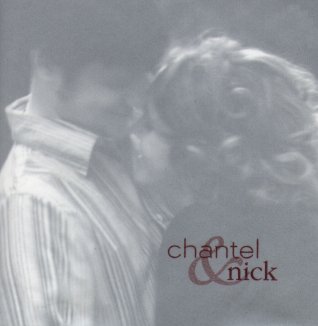 HAPPY THANKSGIVING... SUCKERS! Right before I got married on September 24th, 2005, that's right, 2005! I wanted to make a video that spoke my love to the world. So I did and I forced members of the rehearsal dinner and the reception to view it. I won six awards that night; I don't mind telling you. So click on the picture above and you can view my 5 minute masterpiece. Come on, I DARES YA! "I... hurt myself today, to see if I still feel. I... focus on the pain, the only thing that's real. A needle tears a hole, the old familiar sting. Try to kill it all away, but I remember everything... What have I become? My sweetest friend, everyone I know goes away... in the end. You could have it all! My empire of dirt! I will let you down! I will make you hurt,,,"
11/12/2005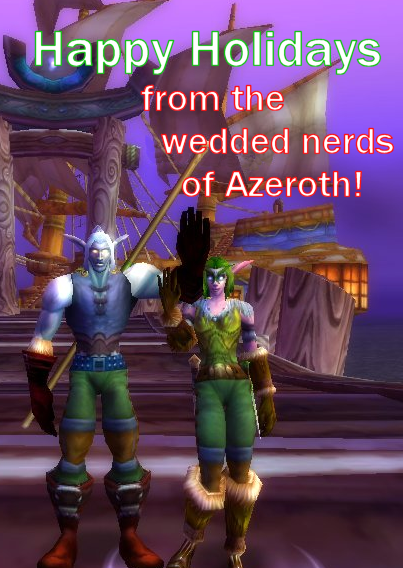 On a lighter note Chantel and I are foolish and we play World of Warcraft... and we are both Night Elves on the Dark Iron server... I am Rodwell and she is Claddagh. If I see you on, then I will explain the meaning behind our names. If not then screw your face! "It's hard to remember, it's hard to remember we're alive for the first time; It's hard to remember, it's hard to remember we're alive for the last time; It's hard to remember, it's hard to remember to live before you die; It's hard to remember, it's hard to remember that our lives are such a short time; It's hard to remember, it's hard to remember when it takes such a long time, it's hard to remember... it's hard to remember..."
11/1/2005
Joshua Chad Murray, 20, entered into rest Oct. 24, 2005. Joshua was born Aug. 24, 1985, at Women's Hospital in Las Vegas. He attended high school at Palo Verde, and graduated in 2002, one year early. Joshua attended Clark County Community College specializing in information technology. He worked at "Lawry's The Prime Rib" as an administrator. Joshua is survived by his twin sister, Crystal Ann Murray; mother, Tamara Sands; father, Joseph Sands; and grandmothers, Barbara Murray of Las Cruces, N.M., and Helena Sands of Las Vegas. Memorial services will be at 1:30 p.m. Wednesday, Nov. 2, at St. Joseph, Husband of Mary, Roman Catholic Church, 7260 W. Sahara Ave. In lieu of flowers, contributions can be made in the name of Joshua Murray to The Agassi Charitable Foundation, 3960 Howard Hughes Parkway, Suite 750, Las Vegas, NV 89109. "Everything is, as its always been, this never happened... Don't take it too bad, it's nothing you did. Just once something dies, you can't make it live. You're a beautiful boy, you're a sweet little kid AND MAYBE HE LOST CONTROL, FUCK-ING WITH THE RADIO, BUT I BET THE STARS SEEM SO CLOSE, at the end... at the end we hurry to our death, well I lagged behind, so you got ahead..."
8/20/2005
This party ain't ever gonna stop-a-rockin!!! "My Ding-a-ling-a-ling!"
8/18/2005
...and the fun continues! "Nosferatu!"
8/16/2005
This just kicks ass, and gets me excited... "Dunt... dun-nuh!"
8/8/2005
So now the Comic-Con has come and gone and my final Bachelors degree semester at U.N.L.V is coming up, my wedding, and before all of that... this year's Burning Man. That's right, it's the loss of innocence year at the B-Man Festival. So outside of all of that I wanted to give a heads up to all my hommies out there and let you know that I am working on a new update with the London, England pics from last Fall. They are all scanned I just need to thumbnail them and make a page. SO LOOK FOR IT! "It's playing on my mind, it's dancing on my soul. It's taken so much time. So why don't you just let me go? I'd really like to try, oh I'd really love to know... when you tell me you're going to regret it. Then I tell you that I love you, but you still say NO!"
7/6/2005
It's time again for another whirlwind tour of Mr. Turner's life. So July 4th AND St. Jean Baptiste day came and went. We celebrated both events at Mr. Berkey and Mr. Reynolds home. The St. Jean Baptiste celebration was fun because we got trashed and shut down the apocalypse flame again, after shooting off some rockets mind you. I also not only dropped a mug to celebrate I destroyed one. The fourth was awesome as Frank and I had wizard duels with Roman candles and shot fireworks at a naked Robert in the pool. There was a naked girl there too, so it's not as homoerotic as it sounded.
Other then that stuff I am ashamed to say that I started playing World of Warcraft and that is the major reason I have fallen off of the planet. It is an addicting mo-fo of a game and has decided to make me its bitch. The Comic-CON is in exactly a week so if you are going to be in San Diego... look for the five awesome mo-fo's tearing it up, as we are expected to, when we travel. "I saw a film today, oh boy... the English army had just won the war... A crowd of people turned away, but I just had to look; having read the book... I love to turn... you... on..."
5/26/2005
You all know the drill... life gets hectic and Nick puts this baby on the back burner. So what have I been up to lately? You had to ask didn't you...
Well for starters Spring semester ended at U.N.L.V. which leaves me with only one more semester to go. I got 3 As, an A-, and a B (In case you were curious). One of my As was the highest grade in the class. (Shocked the hell out of me).
Then my job had me fly to Anaheim for a work-get-together which was sweet because I had all I could eat steak, and all I could drink booze. Then I got to do some kick-ass go-cart racing, ride some rides at California Adventures, and drunken karaoke in a dive Irish bar with my boss and a New Mexican coworker. We sang 'Paul Revere' by the Beastie Boys, it was SWEEEET.
Then I finally got out of my 2002 Toyota Corolla and am now the proud owner of a 2005 Toyota Prius. It's a hybrid! I say F U to Mr. Bush and his oil... F U in a moderate passive aggressive way.
Also Frank became a year older, and there was much booze and much rejoicing... AMEN. "It's TIME we saw a MIRACLE, come on, it's TIME for something BIBLICAL! to pull us through...
4/2/2005
I got the notion that I would throw together my Burning Man page immediately after the Comic-CON triumph of two months past... how wrong I was. Regardless, it is done, and I think it is the best collection of pictures yet. Also I do my best to just generally sell the whole experience to the newcomers. Fat chance that'll work.
So other then that the same old, same old has been happening with me. I became the sole Nevada analyst for the company I just started working for, and so that has been time consuming. Also I had to serve jury duty and that was no fun at all. So I have been alive and doing things. This update was just so big and I wanted to do it right that I took my sweet ass time. So on with the fucking show. "...and so I raise my glass to symmetry, to the second hand and it's accuracy, to the actual size of everything, the desert is the sand... You can't hold it in your hand... It won't bow to your demands... There's no difference you can make, there's no difference you can make!"
2/2/2005
A little heads up, that I have been messing around in the blog world, and you can check it out here: http://thenickshow.blogspot.com/ (Actually you can't anymore - NT 01/12/23). I had to sign up to comment on a blog for Ragnar Tornquist the creator of The Longest Journey, so then I decided to have fun with it. I hope it provides a nice accent to this site. "I really thought... that we... had something... more then a BORE!!!!!!!!"
1/31/2005
Just in time for January to end. I MADE IT! So if you go to the Pictures of People section of the site, you will notice that the Comic-CON 2004 picture is now activated and ready for you losers to peruse. I'm sorry it took so long, but I have about 40 new images and quite a story to tell about this years BASH. Now comes the long awaited Burning Man 2004 update. Which I have about a fucking billion pictures of, I think I will have this done next weekend. That would be nice.
Oh yeah, I forgot to mention that my new job is going awesome as all get out. My second to last semester of UNLV has started up and I have finished applying for graduation. I finished three of the PC games I got for Christmas, and watched about a half of all the DVDs I received. So things are good in the House of Nick, but all of this is why I have been neglecting you. I do apologize, but I hope you enjoy the Comic-Con update. "...of the boys I hate, all the girls I hate, all the words I hate, all the clothes I hate, how I'll never be... anything I hate. You smile... mention, something that you like, or how you'd have a happy life, if you did the things you liiiiiiiiiiiiiiiiiiiiike."
12/30/2004
Man, I sure don't disappoint! ...at certain points of the year anyway. So also earlier this year around the beginning of summer I went to Northern California and enjoyed living near the ocean for a couple of days. Playing with seals, enjoying Chantel's family, and living it up in Wine Country. So here are pics of that endeavor.
Northern California is pretty crazy and I recommend it to you all. For instance the crazy wizards hat spiritual center was pretty nuts. Kayaking was tons of fun. In fact the only thing I wasn't fond of was being a passanger on Highway 1. Car sickness happens very easily on that bastard of a road. "AHHHH! OOoohh... AHHHHHOohhh! Alive! Dead! I was inside your head... I had time well spent, I got your mind well bent, snuck back into shaaaaade... OOOOOoooo you searched the globe for them perfect looks, and you searched for answers in all your books... and finaalllllly by diabolic ascent, here I am! Said, 'It's just a diabolic, diabolic scheme...'"
12/29/2004
I was not lying... this school semester has come to a subtle stop, I have quit my job with Radical Networks and will begin a new job shortly, I am now of the age 23, X-Mas and all it's glory happened, and I have a shit ton of games, dvds, and music I should be enjoying. So why the hell am I updating this site? Because I have a load of free time for a short time and I am playing catch up. So here is proof that I have done something for this site and that other things will follow shortly. The page is pretty self explanatory once you check it out. "I beg to dream and differ from the hollow lies... this is the dawning of the rest of our lives! On holiday!"
12/10/2004
Look, as far as most of you are concerned I am dead... and while that is not true it is very close to the truth. Basically recently I have had my ass kicked by reality. I am getting married next September 24th, 2005 to Ms. Chantel Howlett... I propsed in London, England on Halloween next to the statue of Peter Pan put up by the author J.M. Barrie. So yeah, a lot has happened, including Thanksgiving, work, and this semester wrapping up.
I have not forgot about this site actually because I have been doing a lot of work behind the scenes. Just, as before, when I moved off of the tripod.thenickshow.com site I now moved from a work server to a home server I built. I have been to busy to make stuff work like the mail, but as I am typing this, all of that is now functional. So yeah for me. Anyways, I have a boatload of content that is piling up around my feet waiting to be put online and all I can say is that once finals are over, BOO-YA! Also, now that this space station is fully operational (I apologize) the fun can start happening. "So if you're lonely... you know I'm here waiting for you, I'm just a crosshair...I'm just a shot away from you, and if you leave here, you leave me broken shattered and lied. I'm just a crosshair, I'm just as sure that we can die... ooowaaooh I know I won't be leaving here, with you..."
10/28/2004
Where Nick at? Nick at London fool! Nick at London! Why? Well, partly because of this... yeah, I know it is absurdly lame, but that is the point... PLUS I'LL BE IN FUCKING LONDON... oops... I mean, BLOODY LONDON! So suck on that, Mr. and Mrs. LAME! "Let's give a toast to the pussy ya'll... toast to the pussy... and to the wet clitoris and the pussy wall!"
10/18/2004
So I voted... just like I did in 2000 (all the good THAT did)... and this time I think a lot of others will too. At least I hope that a lot of others will too. Saw Michael Moore on Friday and that was coo... also right after saw Team America, and CHRIST that's a great movie. FUCK YEAH! So I attempted to fix the links picture and I finally updated this news picture with one I felt was AWESOMES! Now I must get back to my life... "Breakin' my back just to know your name, seventeen tracks and I've had it with this game!"
10/14/2004
Fuck all y'all that think you are too important to give Nick-Dog a call to come party. All y'all. So anyway, I have updated the Nick Show Characters picture to one that I feel fits the page. Also due to an awesome shot by my good buddy Dan at Burning Man I have added a new front page. It's my statement on the state of things. I think you will enjoy... and if you don't? FUCK ALL Y'ALL! "You are so friendly in the mix! You are my great man on the right! You are a good person from the south! I likey a lot my man and I will award you!"
10/07/2004
So I updated the assorted picture and the page slightly because Hank sent me the best fucking picture in the entire world... So that is noteworthy... also I received this e-mail from my dad... which caused me to write this e-mail in response... I was finished with the rough draft of this 1,400 word rant of mine when I realized how fucking weird my family and me are. So I figured it was worth showing to the rest of the world. Enjoy! Also there is party at my house on Saturday night and you are all invited. "YOU KNOW I LOVE THE LADIES!!!"
10/01/2004
I have been busy, obviously with work and school, and I am also Network+ now... but why am I updating? Because if this... "Fucking Interesting!"
9/17/2004
So in a reoccurring attempt to get this site full of life, I have updated the Links page. It had gotten to a point where what was on there I pretty much never visited. So I figured I would make it a little more legitimate. These are the sites I try to visit, almost on a daily basis, that I feel are highly entertaining. Also the new picture is my favorite for MOST EVIL PICTURE OF MYSELF EVER. If you could see it in it's full glory I have these glowing red eyes... and if that's not weird enough. WHERE THE FUCK AM I? "Well some guy comes in, looking big, like anyone I've ever seen. He moves just like Crisco, disco, brother 100% Listerine. He says looking at something else but directing everything to me, 'Anytime anyone gets on their knees to pray; well it makes my telephone ring and I'll be damned.'."
9/14/2004
So I updated the FAQ page, not only with a picture but I did a little minor rewording, screwed up the spelling and grammar unintentionally, and unleashed one of the dark secrets of The Nick Show that I hoped would stay hidden until another project was completed. Check it out, essay!
Also a little after-the-fact, yet not worthy of a whole new news update, update. I updated the Nick page in Pictures of People. No I won't link to it, cause that way I would come across as very egotistical. If you want to look at pictures of me baby... you gots to work for it! "For your sake I hope Heaven and Hell... (you missed) are really there, but I wouldn't hold my breath."
9/12/2004
Well fuck... Comic-CON, Burning Man, UNLV, the Battle at the Suncoast, the burying of bones near the citadel of fire... a LOT has happened in the past two months. So this is why I have failed in my quest to update this mamma-jamma. Fear-not patient viewer for there are UPDATES!
I removed the CGE opener since that was a long time ago and replaced it with a new 2004 very familiar style opener. Can you guess the band that plays the music? Also I fixed the picture for the Midi Dance Club with one of better quality and that shows more of the crowd staring at me as I got my dance on. I updated the picture on the page after you click on the main opener to one of this years Comic-CON since the previous was highly outdated. Also I began renovating the pictures in the Pictures of People spot as well as updating the individual Billy and Frank pages. You need to check them out, I put some great pictures there. I have only begun... I am going to create the Comic-CON 2004 page with the huge amount of pictures I have and then update the Nick and Assorted pages as well, I just need to do this whilst juggling work and 16 credit hours. The pictures are already scanned it's just a matter of uploading.
So with this minor yet promising update, I bid you all a slight farewell... until I update again... "I'm George W. Bush, and I approve this message... in fact, I think it is AWESOME!"
7/18/2004
Well I worked like a dog through most of the past couple of days, but the conversion is complete. There are mistakes I'll bet... I have found and corrected a couple and while I would like to think I am anal enough to have thought of everything... I have accepted my unfortunate lack of perfection.
So again getting back to what does it all mean to you. Well I was running out of space in the 75MB that my $10 a month was giving me, and that meant no video clips, and that meant fuck this site. This concern is no longer valid. YIPPY! Yet I wouldn't get too excited for updates since the comic con is in roughly three days. Afterwards, you shall be able to gorge yourselves in the updates that will follow. I cannot tell a lie. "Well that is that and this is this, you tell me what you want and I'll tell you what you get, you get away from me... you get away from me... collected my belongs and I left the jail, well thanks for the time, I needed to think a spell, I had to think a while... I had to think awhile..."
7/17/2004
This is the first "technical web" update I have done in a long time... So I have been working like a freak on this site. "How so?" you ask... well sir. When I first bought the domain name www.thenickshow.com about a year and a half ago I was still hosting the site on www.tripod.com and paying about $10 a month in hosting fees. Yeah I knew there were cheaper solutions, but all the work I would have to go through to move from one domain to another... didn't seem worth the slim savings. Well, now that I have my new job I get to deal with things in the like of the world wide web... and just recently my knowledge of the inter-workings of the internet just sky-rocketed. So what did I do with this new found knowledge? Move the entire site to my own web server. This includes www, ftp, and mail. What again does this have to do with you? Nothing... with the exception that I am very thrilled with my new found skill set... and also since I don't shell out money for bandwidth my site should load ridiculously faster then it ever did before. Also this means that something on my site, might not function. I take great pride in being very anal about this stuff. "He don't remember, how it got there; had a number written on his forearm; spelled disaster..."
6/30/2004
Well I saw Fahrenheit 9/11 and even though I didn't think it was possible, I am now more disgusted with America then I was before. Basically if you consider yourself an American, and plan on voting in November, YOU NEED TO SEE THIS MOVIE. There are so many things in this film that actually occurred over the past four years that the American public is not aware of, it's sickening. "Double Dribble!"
6/28/2004
The 7th Annual St. Jean Baptiste Day came and apparently went... I was in Northern California w/Chantel's family kayaking, wine tasting, watching seals & raccoons, and just hanging out. How did you spend your St. Jean Baptiste Day? Sorry about flaking out on the site, once the spring semester ended I decided to have a two week break and then BAM summer school. Which will be over in a week and a half. There is still so much I would like to do on this site, and I have finally gotten over the fact that I am not aware of who comes here and when... if you are here then good-day, if not... oh well. Six Feet Under is as awesome as expected, and I have yet to see the much anticipated Fahrenheit 9/11 before the equally anticipated Spiderman 2. After watching Firefly, I have now seen every episode of everything Whedonesque. Well I should go study for the exam after work tomorrow. The new job is still hella working out. Yippie for better career choices!!! Oh shit yeah, Chantel and I were on TV on the Carson Daily show on 6/11... we were at a live taping of the show to go see Dane Cook. Check it out! "BREAR!!! dun dun dun dun-dun dun dun dun dun dun-dun..."
5/17/2004
Well, it seems about that time for the obligatory, "I'm not dead" news update. So for those of us taking notes... I am not dead... Angel's last episode is Wednesday and that is sad (4 months ago I could give a shit), but Season 4 of Six Feet Under starts in June and that is good! The Six Feet Under is also cursed... So yeah school is out for summer, but I am taking summer school, cause I want to graduate by Fall 2005. I have a puppy and his name is Spike Beagle, named after you-know-who. What else? Ummm... NOTHING!!! "Skate or Die, DIE-DIE-DIE-DIE-DIE!!!"
3/30/2004
Blame this update on the Tetons.... or Frank, or Frank's SA friend Sydney who took the picture. Twice a year is pinball fun night at this dude's warehouse. I actually talked about it last year in this article. Anywho so, as I was last year; I went there again and we had a drunk'n great time playing PaperBoy. To actually become the PaperBoy you had to take out the Two Skinheads brawling, as well as the Pimp. Only Sid who created the rules of the game was able to accomplish this task. Anywho because of the pic and because I never really liked the Karaoke ones, they are gone and that is up... on the front page. Enjoy, if... you... dare!!! "OOOhhh BABY! I want to show you, where my love goes, Baby! I want to get it all over you, all over you, all over you! Take a stroll on down to my love, and I will meet you there. I hope you have a big appetite, cause I want you, I want you to, take a bite, of my love, my love, my love, baby my love, my love, awwww."
3/29/2004
OK well I found motivation through being slightly sick. So I added the Burning Man 2003 page, and decided against my cruise picture page. The only people that really want to see that stuff went on the cruise... and maybe their future children, maybe. So on top of that updating I also started in on the Season 2 Episode Guide... as long as I keep it up it will be going through some drastic revisions. Some times something that seemed like a good idea last year doesn't stand the test of time. So check it out, or don't... my guess is if you wait, it will be much more entertaining when it is actually completed... "I didn't lie and I ain't sayin' I told the whole truth... I didn't know that this game we were playing even went by a set of rules."
3/26/2004
The new job is fucking awesome... Retail is worth leaving on every level, I'll say it again. Also check www.bigfriendlycorporation.com out... I think they're really good, and I went to high school with his sister, so there! What else, MODEST MOUSE VIDEO!!! (HINT:: I think the sun is an owl and the flowers are hummingbirds) ...and well, I guess that's all I got. I mean there is more, so much more to say, but is it interesting? I think not! "Convince me... Convince me I shouldn't give up on another friendly meeting... I drink a lot, but it takes a lot to take away the sting..."
3/08/2004
So how was February for me? Well just like I watched all that Buffy I decided to watch Season 3, and then the entire Angel series. I know I have a problem, and there is really nothing I can do about it. I finally quit CompUSA after 3 years of... more retail then I care to speak of, and I will go on to work as Senior Systems Tech at a small Las Vegas business, RNI. Other then starting to read God bless you, Mr. Rosewater, I figured I would update this site with some pictures I got developed. More will come, I just need... umm... motivation! "We roll 'em up in a carpet and throw him off a bridge! hehehe hahahaHAHAHAHA!"
1/29/2004
Sick... again... and it wasn't fun because it hurt to swallow, [ENTER COCK SUCKING JOKE HERE] So! Why update, you wonder??? Well, first off because of this, which can be found here, which was recently updated for the new album that this is on, and all of this makes me happy... smile happy... :-) I promise I will never do that again. "Everybody's running when the circus comes into their towns... everybody's gunning for the likes of the Killer Klowns... from Outer Space... Killer Klow-wow-wow-wow- oohns... from Outer Space... JOCKO!"
1/22/2004
Well just like last year I disappeared from this bullshit to enjoy my winter break. I watched Buffy - The Vampire Slayer Season's 4-7, I played a little Mortal Kombat: Deadly Alliance, Simpsons: Hit & Run, and Pirates of the Caribbean. So yeah I was a shut-in for most of my break... oh yeah... I rocked the fucking house at Balcony Lights as an official member of The Heart Attacks. Check it out!
So yeah I played my first show, and we got reviewed!! So the new school semester has started... I have tons of comic books to read... and work is driving me nuts, so I'll try to finish my projects that I have started here on the website, and check in to say "HI!" It will just be odd and sporadic... like always. "I don't know me and you don't know you, so we fit so good together cause I knew you like I knew myself."
12/19/2003
Sick... and it's not fun... at least I don't feel guilty calling into work when I'm sick... so that's always refreshing... however I missed my dentist appointment, DRAT! Well, since my news entries are over a year old now, I have decided to start deleting what has passed 365 days... so farewell Eagles quote, Perfect Blue clip, and Bright Eyes quotes... we will always remember your contribution to giving this site 110%. Also I am running low on server space, so I figure I should do my part to save me from having to expand or switch web-hosters. "I'm gonna serve it to you... and that ain't what you want to hear, but that's what I'll do..."
12/17/2003
Well, fuck this has been a crazy year... New Years happens and I reunite Billy and Robert and immediately thereafter Billy breaks his feet... We all go to Disneyland with Billy in a wheelchair, I become a writer for my college newspaper for a while... Chantel and I go to Universal Studios, then to Walt Disney World and a cruise in the Bahamas... The San Diego Comic-Con, I move out of my parents house AGAIN, then Burning Man... Frank's C.G.E. Party, and then the Las Vegas Comic-Con, Chantel and I go to Disneyland AGAIN! I have also started playing the Bass, and have a new tattoo. Right now out of the four classes I took this Fall semester I have 3 A's... YIPPY!!! So... now finally after many months I have decided to put up the page for the 2003 San Diego ComicCON... you can access it by clicking the link right there, or by going to Pictures of People... which you will see links for the Disney Cruise and Burning Man 2003 that currently do not work... what does this mean?!?!? NEW UPDATES FOOL! "Heh-heh-heh... BANG!!!"
12/16/2003
Yeah... so I was gone for a while... saw modest mouse and that was amazing, had finals and that went rather well... still waiting for grades but it appears to have been a smooth ride. Became 22... yeah, now I am truly in my twenties and must make the most of myself or I'll die alone and unloved. HA-HA-HA! Umm... what else? Oh yeah, I actually added content to the site... a new front picture commemorating my 22nd birthday party and the most intense music EVER to accompany it. Refresh and you'll discover the magic... and yes the tattoos are real, BITCH! "TEACH ME HOW TO MAKE GOLD... BITCH!!!"
10/29/2003
So I made a recent discovery... Hank informed me of this awhile ago, but I didn't have proof until today. So getting a new tattoo is looking to be a higher priority on my list. So I am deciding to make another "failed nick contest." It's easy, look at this, and then e-mail me your pick-of-the-litter. If there is enough of a response to one design over another then you might influence my decision making processes. ISN'T THAT AWESOME?!?!? I thought not... Also just saw Dane Cook.... fucking amazing! "standing... in the tall grass... thinking nothing... you know... we need oxygen to breath... oxygen to breath..."
10/28/2003
Yeah well school, work, living, and other functions have consumed my life... as a result I have been spending less time online, and more time with... other functions. Regardless due to demands of this and that, I am doing an "I'm still alive update" Modest Mouse is playing Las Vegas on 11/06/03 which has me excited, I have 3 new tattoo ideas that will hopefully become real very soon, there is a Las Vegas Comic-Con this Halloween weekend, and hey look at that... it is Halloween any day now! Yippy! I still have cruise, comic-con pics, burning man pics, ian's wedding pics, and SO MUCH MORE to put on this site... I just need to find time and motivation for all that! So what did I update? A new pic of Hank is in the Pics o' people section. I know it's not much but at least you got something for October. "uh I can explain that! See it used to be milk, and... well... time makes fools of us all!"
09/01/2003
Well school has started for me again, the man did burn, and I have completed a huge site update... "Huge?!?" you ask. Yes, huge for when you go to the main site in addition to the ever-changing pictures there are now songs to accompany them. One special picture alone has three, count 'em! 3 songs! That's right brothers and sisters... so go to the front of the site, listen, revisit, listen, reload, listen, revolutions? Tell me what you think, aye? Aye! "...and if there's anything good about me... I'm the only one who knows..."
08/21/2003
It's not really deserving of a news update but the Episode Reviews picture has been updated to one of me on the cruise. I wasn't a fan of the previous one but I feel this is some semblance of an improvement. I like this one... yep. See I told you it wasn't that deserving of a news update... but I figures I needs to updates somethins! Oh yeah.... THE MAN WILL BURN IN 9 DAYS! "...have a doctor come and visit us... and tell us which one is sane!"
08/08/2003
Hey... so there is a new picture on the main page. Taken from the 2003 pictures of the San Diego ComicCON. It is my favorite picture of the whole set because we were sitting at a "How to design and build your own spaceship" seminar. We didn't realize it would be filled with many children... however we did learn that in Star Wars, even though it's a galaxy far, far away; the reason there are humans is because... (GET THIS!) THE ACTORS ARE HUMANS!!! Also I resized all the video clips on the site because I use 1280x1024 now and they were way too small. "...and I find it kind of funny, I find it kind of sad... the dreams in which I'm dying are the best I've ever had."
08/05/2003
Well I decided to take a month-a-way from this shit... Needless to say this time it is not because of Vice City... no this time it is because of the San Diego Comic-CON and because I moved from one part of my city to another. "Why?" you ask. Well it is simple, I decided I should screw myself up financially, throw caution to the wind, and move-in with Chantel again. I still had new pics in the works... but I am getting into the areas of the show that I actually like... so I am getting overwhelmed with clip and picture ideas. Anywho I shall be updating shortly at least to show you the San Diego 2003 pictures.... I hope they turned out like they originally did in my mind. Well I would apologize for my absence... but no one seemed to care... "When Cameron was in Egypt land... Let my Cameron goooooo!"